Shenandoah Marlins Aquatic Club Hosts Commonwealth Games
Posted: Jun 19, 2009 10:01 PM IST
Updated: Jun 20, 2009 2:52 AM IST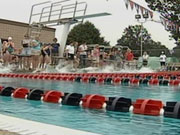 Virginia's largest outdoor swim meet returns to Waynesboro and makes a big splash for local hotels and restaurants.
About 550 swimmers are competing in the Commonwealth Games, which takes place at the Ridgeview Park Pool. It brings together boys and girls ages 8 to 18, who compete in a variety of individual and relay events.
The Shenandoah Marlins Aquatic Club plays host to the annual meet.
Coach Ryan Sprang stated, "We want to put on a good show as a host team. We want people to come down here and enjoy the experience, maybe get out to some of the local restaurants and do some business in the town, but we also want to swim well."
The sanctioned meet continues through Sunday. It brings in swimmers from as far as Virginia Beach, northern Virginia and Roanoke.